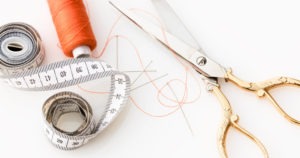 Though basic sewing is not a difficult skill to master, even the most seasoned sewer could benefit from an update on essential measurement conversions, a breakdown of fabrics, and tips for when to use certain threads.
Follow this guide to all things sewing to refresh your skills or, perhaps, pick up some bits of information you may not have known before!
Best use for threads: Cotton: use lightweight cottons and fabrics, linens, and rayon Silk: silk and wool Polyester: all-purpose; good with most any other fabrics Metallic: machine embroidery; handbags, shoes, other accessories
Woven Not stretchy; made up of horizontal and vertical fibers; mostly used for apparel or decorating
Knit Slightly stretchy; fibers loop back and forth; typically used in clothing
Cotton Stiff or stretchy; interlocking fibers; mostly used for apparel/quilting
Natural Comes from fibers in nature (e.g. hemp, silk, linen); can be used in clothes or home goods, like tablecloths, towels, etc.
Synthetic Made from inorganic fibers (e.g. chiffon, rayon, velvet); used mostly for ornate clothing and drapery