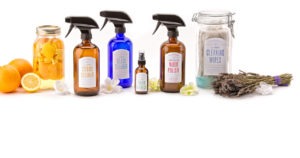 Getting ready to tackle your spring cleaning to-do list? Don't spend the weekend surrounded by cleaners filled with chemicals and ingredients you can't even pronounce. Make your own cleaning supplies instead! They are healthier and often cheaper solutions to the chemicals you'd buy in the store.
Use the recipes below to create everything from a multipurpose cleaner to furniture polish and enjoy knowing you took the natural route!
All-purpose citrus cleaner
Fill a jar of your choice with citrus peels, and then top off with white vinegar. Seal tightly with a lid, and allow to sit for a week. Then, strain the solution into a spray bottle and add your favorite essential oil. Use wherever you'd use a traditional multipurpose spray.
Floor and glass cleaner Pour the alcohol, vinegar, and water into a spray bottle. Add the essential oil of your choice. Spray onto paper towels for cleaning windows and mirrors. Add cleaner to a bucket for mopping floors.
Wood polish Combine the olive oil, lemon juice, white vinegar, and essential oil in the jar of your choice. When you're ready to use the polish, test a small area first. Wet a cloth and squeeze out the extra water. Spray the polish onto the cloth, and wipe furniture. Buff with a dry cloth to finish.
Disinfecting wipes From the grocery store cart handles to your kitchen counters, disinfecting wipes come in handy all the time. To make your own, mix all of the ingredients in a bowl or jar, cut a paper towel roll in half and pour over roll, and store in an airtight container. Use as you would disposable disinfecting wipes to clean countertops, spills, and other messes.
Fabric sanitizer/refresher We're all familiar with Febreeze—it's super handy for a quick refresh of the couch, the dog bed, and more. To make your own, combine warm water, witch hazel, baking soda, and essential oils in a spray bottle and mix well. Spray onto fabrics for a quick refresh.